We will be closed July 1, 2022 through July 10, 2022 reopening on July 11th for our July 4th Shut down. Thank You for your business. God Bless America .
Description
Seasoned Breading- for frying and baking-12 oz. bag-may be used as a coating or batter for meat and vegetables. Lightly seasoned. Use with pickles, thinly sliced potatoes, squash. No egg, no Dairy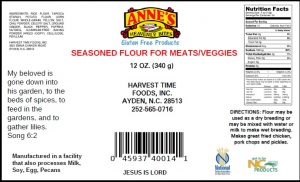 *Nutrition label subject to change. Always check product label upon receipt.