For in Him we live and move and have our being. Acts 17:38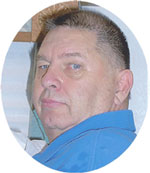 In Loving Memory
of
Bryan Grimes, Jr.
March 28, 1939 – December 29, 2006
A Life Well-Lived
Bryan was a gentle and kind man whose love for his family was only surpassed by the love he had for his Savior and Lord Jesus Christ. His earthly life ended at Pitt County Memorial Hospital on Friday, December 29, 2006. Bryan went quietly through life and will be remembered for his kindness. Many who never knew him benefited from his generosity. The world recognizes and applauds a man whose success is measured by his worldly possessions, but we honor this man for the treasures he built up in Heaven, which he now possesses. A man of strength, his courage was shown in the battle he fought for so many years against Lyme disease and the destruction it had on his body. He fought bravely, never complaining, and now he is seated in high places free from the bondage of this disease. A light may have gone out in our lives here, but we know that Heaven has gained a bright shining star.
Bryan Grimes, Jr., 67 was born in Washington, North Carolina, the first child of the late Bryan and Bobby Musgrave Grimes. He graduated from Washington High School in 1956 and the University of North Carolina in 1961. After college he became a commissioned officer in the USAF and served for a period of time in Viet Nam. He and I, Mildred Anne Briley Grimes, known as "Anne", met when I was just 15 years old and he was a freshman at UNC. We were married in 1961.
Since 1970, Bryan was self-employed in various businesses until 1981 when we started Harvest Time Foods, Inc. which produces Anne's Flat Dumplings. He retired as president in 1995 because of his illness and our son Bryan Grimes, III, took his place. Before he was sick, he was very active in the community as a member of the Lion's Club, Toastmaster's, and the Full Gospel Businessmen's International. He was devoted to his church, Immanuel Free Will Baptist, in Winterville, NC and loved the people there.
Bryan and I were married 45 years, and now my best friend and my soul mate is gone. I can't reach out to steady him as he falters or wipe the food off his chin, but forever he resides in my heart, still encouraging me with, "If that's what you want, do it." His memory anchors us as we manage this company and we seek to honor his legacy by continuing to manufacture and sell quality food products through Harvest Time Foods and the Anne's Old Fashioned Food Products brand.