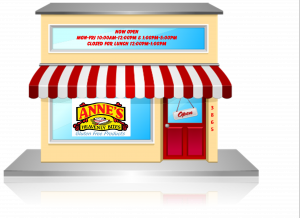 ANNE'S HEAVENLY BITES


GLUTEN FREE SHOP

3865 EMMA CANNON RD., AYDEN, NC
TO ALLOW US EXTRA TIME TO CLEAN FOR THE SAFETY OF OUR EMPLOYEES AND CUSTOMERS DURING THE COVID-19 PANDEMIC OUR STORE HOURS WILL NOW BE 10 AM -NOON AND 1PM-5PM.
OUR HOURS ARE

MONDAY

–

FRIDAY
8:00 AM – 12:00 PM and 1:00 PM  5:00 PM
WATCH FACEBOOK FOR SPECIAL SATURDAY SALE DATES.
THIS IS A LIST OF THE ITEMS WE
CURRENTLY CARRY IN THE SHOP.
FROZEN DOUGHS
DUMPLINGS THIN DUMPLING SQUARES (WITH EGG ) 16 OZ,     BUTTERMILK BISCUITS, CHEDDAR CHEESE BISCUITS ,  CHEESE WAFER (SEASONAL),  CHOCOLATE CHIP COOKIE, GINGER COOKIE, SUGAR COOKIE
      FROZEN THAW AND EAT ITEMS
 LEMON LOAF CAKE, VANILLA LOAF CAKE,
SHELF STABLE PRODUCTS
ORIGINAL CHICKEN BASE,  CHICKEN BASE (no MSG), LOW SODIUM CHICKEN BASE, BEEF BASE (no MSG), HAM BASE (no added MSG),  "THE ONE" SAUCE, MAPLE BUTTER, GLUTEN FREE SEASONED BREADER 12OZ, WHITE CORN MEAL (MEDIUM GROUND) 2 LB, WHITE SELF RISING CORN MEAL , WHITE GRITS